Perpell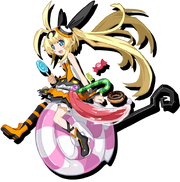 {{{nickname}}}
Information
In-Game Information

List of Abilities
Ability
Effect
{{{ability1}}}
---
{{{ability2}}}
---
{{{ability3}}}
---
{{{ability4}}}
---
{{{ability5}}}
---
{{{ability6}}}
---
{{{ability7}}}
---
{{{ability8}}}
---
{{{ability9}}}
---
{{{ability10}}}
---
{{{ability11}}}
---
{{{ability12}}}
---
{{{ability13}}}
---
{{{ability14}}}
---
{{{ability15}}}
---

Weapon:
Lollipop
Familiar:
Gulpy
Gender:
Female
Crest(s)
Homeworld
The Underworld
Misc. Information
Gender:
Female
Series Information
English VA:
Sarah Anne Williams
Japanese VA:
Mai Fuchigami
Perpell is a character in Trillion: God of Destruction.
Offical description
Edit
Zeabolos's niece, Ruche's younger sister and an Overlord who holds the Overlord of Crest of Gluttony.
She exudes a spirit of innocence and brightness, unlike her older sister, Ruche. In order to transform the Underworld into a kingdom of sweets, she takes on the task of defeating Trillion. She's been attached to Zeabolos ever since she was little, because he always gave her sweets.
Personality
Edit
Perpell is someone who wears her heart on her sleeves. She behaves like the child she is; she is shown to be impulsive, always doing what she wants do at any given time, caring, always thinking of her family and even gives up her beloved sweets for her uncle Zeabolos, and innocent, as shown when she told Zeabolos that her father and mother were up in the sky looking after her.
Favorite Gifts
Edit
Each gift shows an event the first time it's given to Perpell and the player receives 1,000,000 affection points and 25% heart points.
Super 3D Book
Bat Umbrella
Community content is available under
CC-BY-SA
unless otherwise noted.